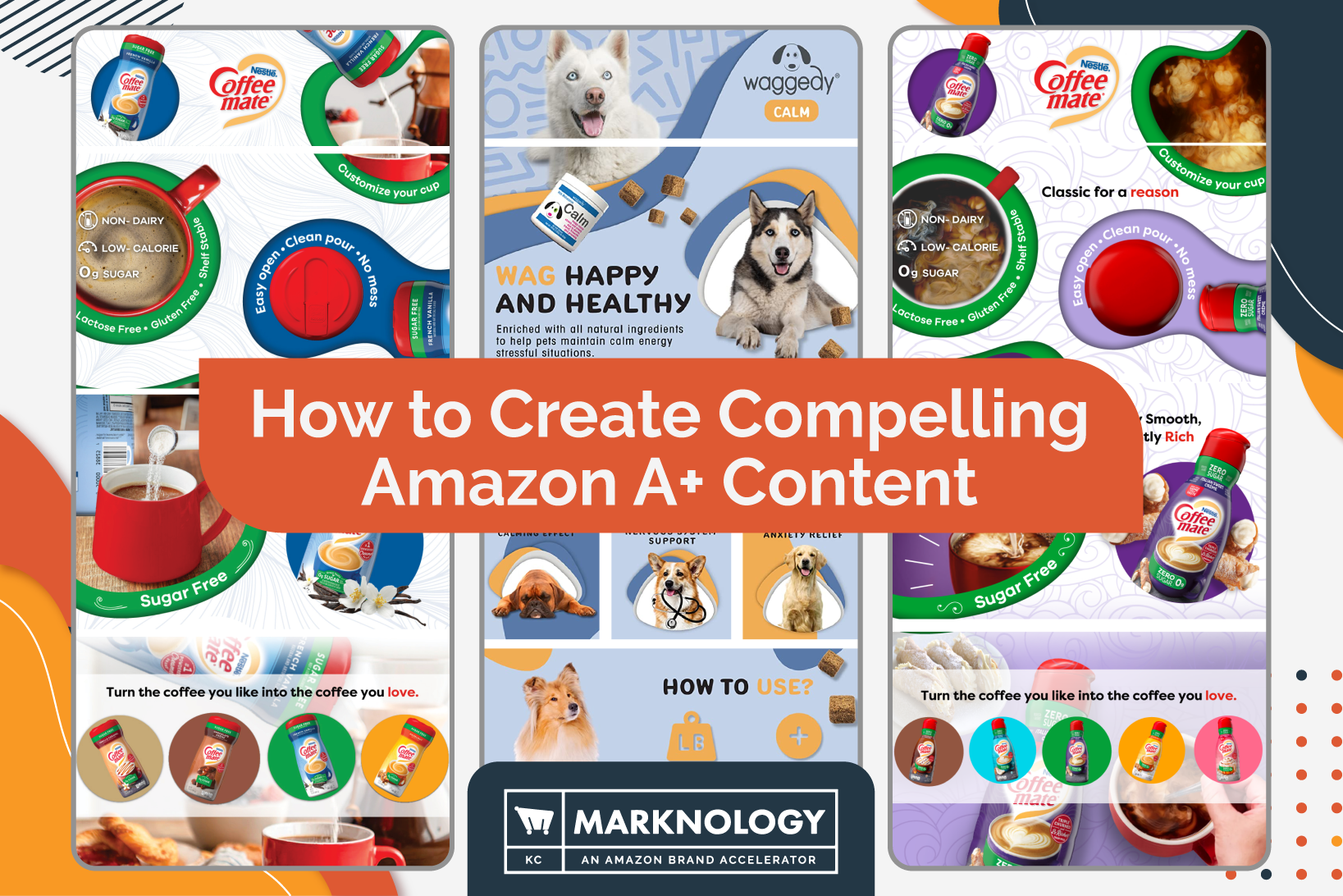 In our last blog, we dove into Amazon A+ Content to explain how this premium-content feature increases brand awareness and customer's purchase decisions by using enriched multimedia content that instantly grabs their attention. 
In this article, we'll walk you through how to create the best Amazon A+ Content that drives customers to click on the "buy button". Let's get started!
1. Include your Unique Selling Proposition
Unless you highlight what makes your product unique in a saturated marketplace of homogeneous competitors, you can't target your sales efforts successfully.  
Emphasize your unique selling proposition (USP)- what differentiates your products and brand from your competitors- and build your elevator pitch based on the customer's needs.  But never reference or compare products with competitors as it's against Amazon Guidelines. 
Make sure your A+ Content addresses the following questions:
What does your ideal customer want?

How can your product or service solve the customer's problem(s)?

What factors motivate their buying decisions?

Why should your existing customers choose your products over your competitors?
2. Provide Amazing Visuals
 Let your products shine with product photography and rich visuals that make customers picture what your product looks like in real life. Remember 65% of humans learn visually and 90% of the information our brain processes is visual, which is why having good photography is so important.
Think of your imagery as the art of taking pictures in a way that communicates to potential customers why they should buy your product. This type of photography focuses on the features and benefits of the product while maintaining an attractive appeal.
Shoppers aren't coming to buy from a brick-and-mortar store; even for some, this might be their first time getting in touch with your brand. The only thing they'll have as a reference is your product image so use it to nurture customer trust in your brand.
Showcase your product from different angles to ensure customers know exactly what they're getting. Also, use lifestyle images to showcase your product in action and help customers imagine what using your product would be like. 
Great images sell products and convert visitors into buyers!
3. Tell Your Brand Story
Amazon A+ content has opened the gate to storytelling on the platform. Developing strong brand storytelling helps your audience learn more about your brand - not just your products- and form a deeper connection with customers that will make them keep coming back.
Share some insights about your brand's values, history, and standards. Tell potential customers what your brand stands for and let them resonate with your message. Are you a family business? Are your products handmade? Whatever it is, find your story and incorporate it into your A+ Content!
However, make sure you follow Amazon Guidelines when sustaining certification, environmental, and satisfaction claims, as some might need to be substantiated by a note in the text with supporting information.
4. Address Frequently-Asked Questions
Provide all the information about your product and make sure you include customers' common questions posted on your listings, reviews, feedback, or competitor's listings.  But, keep them short and clear!
This allows customers to understand your product and make an informed purchase decision that will save you the burden of returning products and negative reviews. 
5. Take Advantage of Comparison Tables
The comparison chart feature is extremely useful when displaying your other product offerings. Customers won't have to navigate away from the detail page to discover other similar items they might like.
6. Use Alt Text
Previously known as image keywords, alt-text is a simple sentence describing your image product and one of the many Amazon requirements.  Alt-text is used by visually impaired customers and screen reader apps to help your products in search results, and it's not indexed directly on Amazon.
If you choose a previously uploaded image from the Media Library, you can use the existing alt-text on the image or customize the alt-text for that content. 
Time to Start Creating your A+ Content
Now that you know how to make the most compelling A+ Content for your listing, you can start benefiting from the 3-10% increased sales Amazon claims this powerful tool can bring to your business!
Request a consultation
---