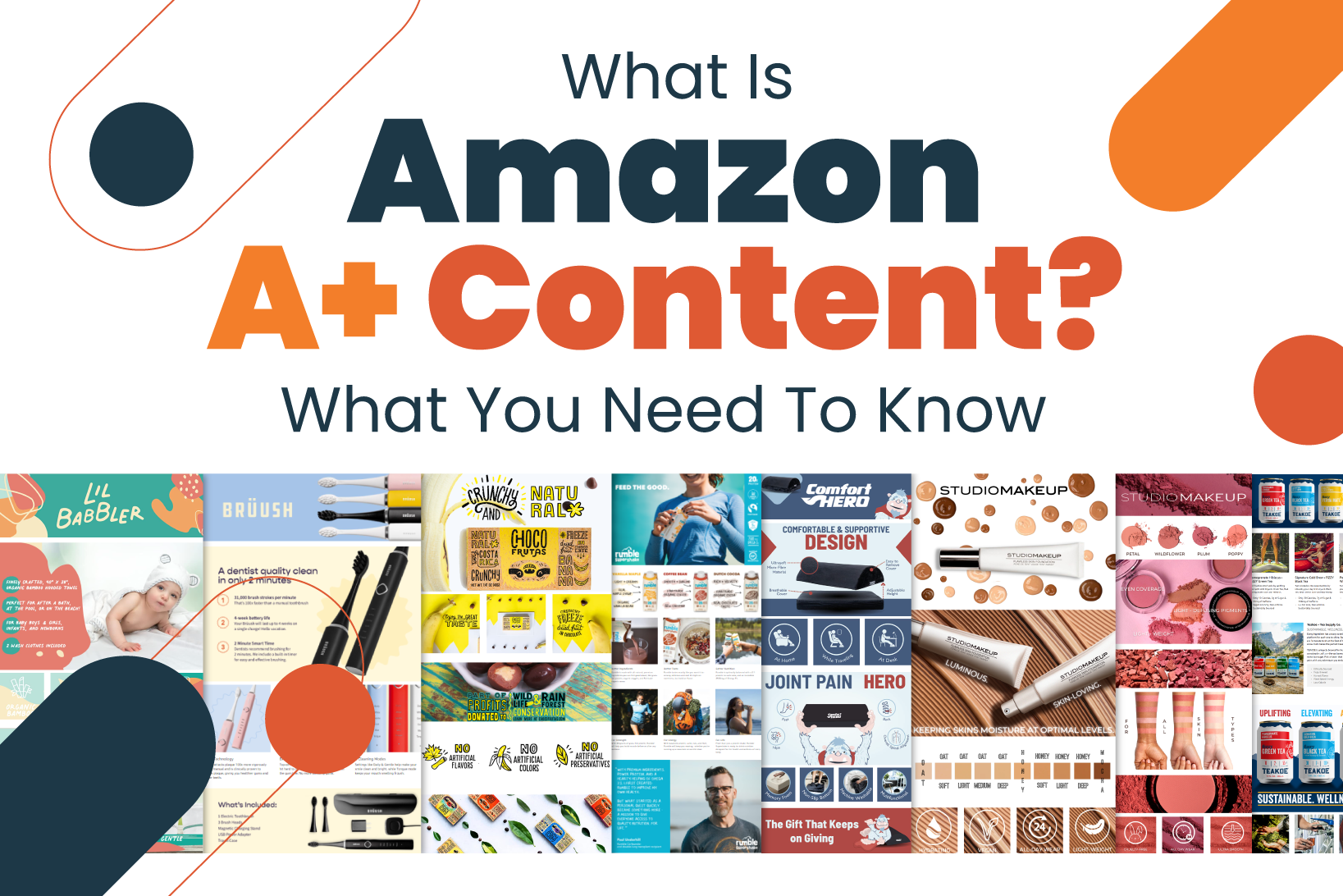 If you're selling on Amazon, perhaps you've heard of Amazon A+ Content and wondered if it was worth the time. In short, Yes. It's worth your time and effort.  But before we tell you how this media-rich content can boost your conversion rates and sales velocity, let's take a look at what this tool is all about.
What is Amazon A+ Content?
Amazon A+ Content is a premium-content feature that promises to enhance your product detail page with enriched multimedia content such as high-quality images, a diverse set of modules/layouts for content creation, white-labeled comparison charts of other products, and even custom copy.             
In short, Amazon A+ content replaces product descriptions on listings with rich text and visuals allowing sellers to showcase their products in a best-branded way. The goal of A+ Content is to improve your conversion rate – the percentage of visitors to the product detail page who go on to buy your product- with content that customers won't resist clicking.
What Does Amazon A+ Content Consist Of?
An A+ content page will contain:
Multiple images of a product.

It may include product photos shot in close-ups, different angles, and other lifestyle-shot images to illustrate features visually.

Precise information about the product

. It could be within 100 words or less.

Attractive list of bullet points

explaining the benefits of the product.

Concise paragraphs

describing the product features, specifications and benefits.

Comparison modules

to show key product differences.

360° product views

"

What's in the box"

section.  Located directly below the product image.
** But not limited to the above. You can be as creative as you want within the Amazon A+ modules to showcase your product. It is as simple as branding is the key to success!
*Keep in mind: books, music, video, and DVD (BMVD) products do not qualify for A+ Content.
Who Can Use Amazon A+ Content?
Amazon A+ Content is exclusively accessible to:
Brand Owners. 

Professional Sellers approved as Brand Owners via the Amazon Brand Registry (ABR) Program. This premium feature is part of the Vendor Central Program, which is invite-only.

Brand owners approved for selling programs, such as Launchpad and Amazon Exclusives.
What are The Types of A+ Content?
1. A+ Content: Unlimited feature for all sellers that allows using five free standard modules on the detail page.
2.Premium A+ Content: Invite-only feature that gives access to seven modules with other cool features like Interactive hover hotspot modules and Q&A modules.
How much does A+ Content Cost?
A+ Content and Premium A+ features are both available to you at no cost. However, Premium A+ features are in a promotional period meaning Amazon might charge an extra fee in the future. 
What Are The Benefits of Using A+Content?
Higher conversion rates and product sales: 

With enhanced multimedia content, you can make your product page more attractive to customers and help them better understand how your product solves their needs.
Amazon even claimed that this feature increases overall product sales by 3 – 10% on average. On the other hand, a study performed by MediaMind analyzed 24,000 websites over six months and discovered that multimedia content boosted impressions by 3x!
Reduced return rate:

A+ Content allows customers to make an informed purchase decision and a deeper understanding of your product-  reducing the likelihood of having products returned.
Build brand recognition:

A+ content makes you stand out by building your reputation and recognition.  
Reduced ACoS and increased ROI of PPC campaigns

: A+ Content helps reduce the costs of each advertised sale and increases your overall ROI. 
What Are The Amazon A+ Content Guidelines?
Here are the main things you shouldn't do to avoid your product from being rejected by Amazon.
Never include satisfaction claims (for example, "100% satisfaction guaranteed" and boastful claims such as "#1 rated," "top-rated," and "best-selling.")

Do not reference or compare products with competitors.
Your text and images should be unique to your A+ listing, meaning you can't copy and paste from another listing.
Do not include any shipping details (for example, "free shipping"), QR barcodes, or personal information such as phone number, address, or email on the A+ page.
Comparison charts may only compare against other products owned by the same brand.
Avoid using promotional wording such as "best product ever" or incentivized keywords such as "free."
Also, remember that once you submit your A+ Content, it can take up to seven days for Amazon's approval. You can check the status of your content within Seller Central.
Don't Miss Out On A+ Content 
Undeniably A+ Content is an opportunity you shouldn't miss out on if you're looking for a dynamic way to showcase your products on Amazon while increasing your ROI on the platform.
In our upcoming blog article, we will reveal to you the best A+ Content "best practices" to showcase your products.
Request a consultation
---