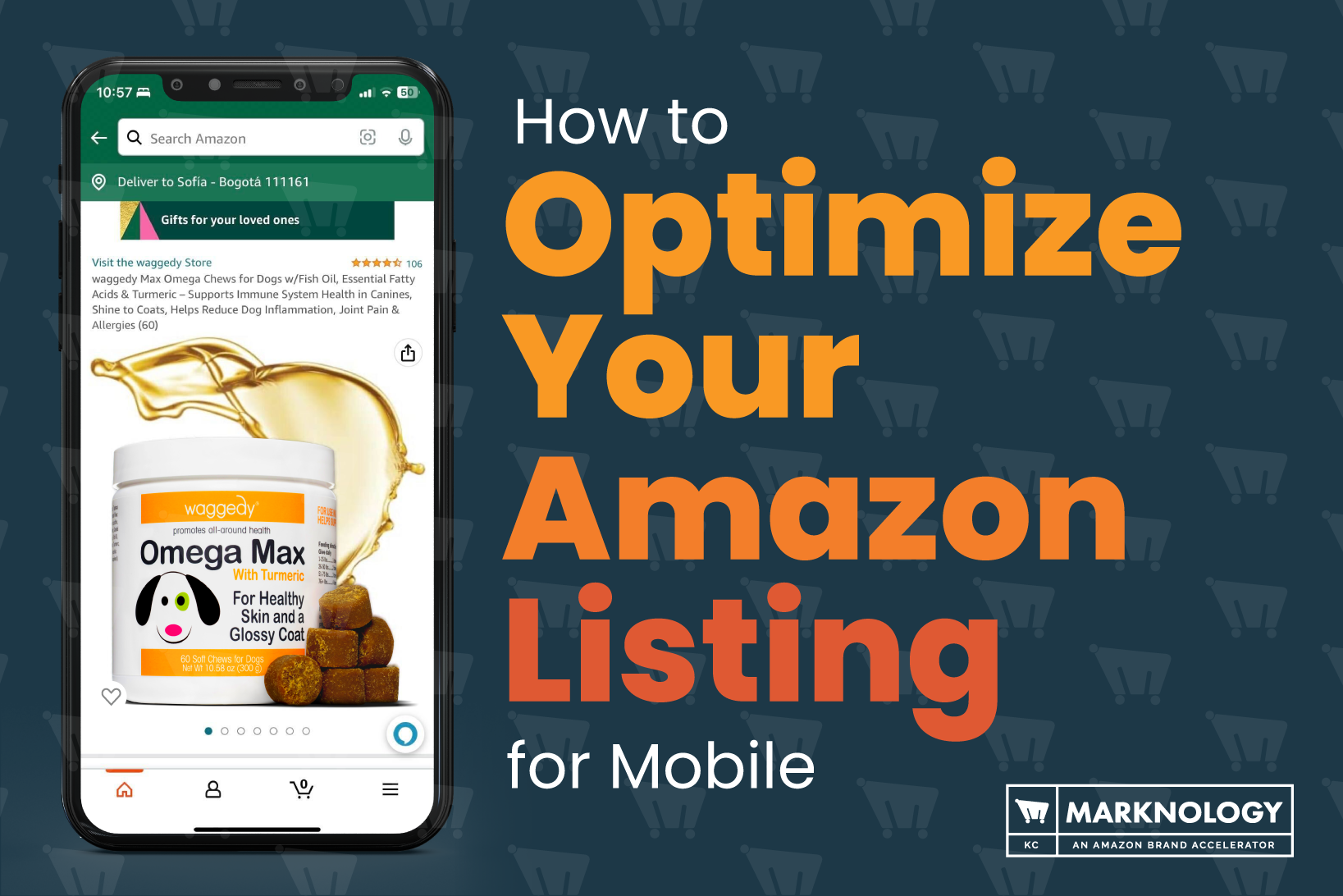 One of the things all sellers should focus on is optimizing their listings for mobile.  Nowadays it is not enough to just upgrade your listing on a desktop. Statistics said it: over 80% of shoppers browse first on mobile to discover new brands and more than 197 million people use the Amazon app every month. 
How will you convert all those customers visiting the site from their mobile devices if your listing doesn't provide an engaging shopping experience? How are you going to convince shoppers that your product is exactly what they need if your text and images aren't displaying correctly?
In this article, you'll learn the best practices and pro tips for mobile optimization to help you improve product search, boost sales, and help customers discover your brand.
The difference between desktop and mobile layouts
As you would imagine, the layouts for mobile are different from the desktop and even different from device to device. On a desktop the listing title shows at the top, followed by the main image and the bullet points next to the main image.  The product description and A+ content are featured after the bullet points. However, on mobile, the order changes, and the A+ and the product description show up before the bullet points.
Taking into account the way a listing shows on mobile, you can guess that the product description and the A+ (if you have the feature available) take more relevance on mobile. Thus, you need to create a new strategy for your listing. But don't worry, we will walk you through each step of the process.
Four Steps to Optimize Your Amazon Listing For Mobile
1. Product Images

When scrolling through the search results page, what is the first thing shoppers put their eyes on? Images!
People rarely read past the title and base their decision on the first images they see of your product along with the title. That is why your images should portray your brand's essence and evoke an emotional response in the customer to help them visualize why your product is the perfect fit for them.
Ensure images highlight the key features of your product and provide the customer with a profound understanding of what your product can do for them. This is more important than ever as mobile users will be looking at your listing on a smaller screen.
Pro tip: Make sure the main image is as big as possible (around 80% of the image frame) so it pops in the search results and people can click on it.
2. Product Title
The first bit of text people are going to read about your brand is the product title, thus it needs to be crafted to perfection. Depending on the category you sell in, on a desktop you have up to 200 characters for your title, but on mobile, words are shortened up to 80 characters and three dots.
You have much less space to play with words on a smartphone, so you need to get all your most critical keywords in the first 80 characters. All the other characters will still be indexed for the search engine, but only the first 80 will be visible to the customer. Make each of them count!
Pro tip: The 80 characters you are allowed to use should have your main keyword, pack size, and unique selling proposition.
3. Product Description
Unlike on a desktop, the product description and the A+ are shown first on mobile, meaning they are much more important on a smartphone.
Amazon gives you up to 2000 characters, but only the first 200 are shown with an option to read more.  The first 200 characters should focus on convincing the customer that your products are better than the competition without repeating information mentioned in other parts of your listings.
Pro tip: Make sure to add a call-to-action within the defined character limit.
4. Bullet Points
Only the first three bullet points get shown initially rather than the usual 5 bullets you get on a desktop. They should include the top selling points of your product and the most important keywords. Keep your bullet points as persuasive as possible so that potential customers engage with your product.
Pro Tip: Keep the information short and easily digestible.
5. A+ Content
A+ Content (EBC) is another marketing tool available to accounts with Brand Registry. This is a great place to go into detail on your product features and visuals to help your brand and listings stand out against competitors in your market.
The goal of A+ Content is to improve your conversion rate – the percentage of visitors to the product detail page who go on to buy your product- with content that customers won't resist clicking.
However, most A+ modules do not fit well on smartphones, leaving too much white space.  That is why we advise you to take advantage of the Store Builder. With this feature, you can easily create a mobile or desktop view of your Store, and a version of your Store will automatically get created for the other device. You can also switch between device views to see the progress of your design in real-time.
Pro Tip: Use lifestyle images to showcase your product in action and help customers imagine your product being used in their homes or by them.
Request a consultation
---